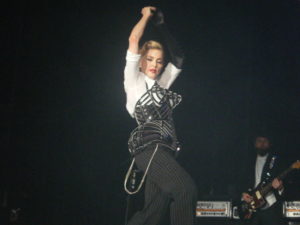 I have loved Madonna my whole life.  Growing up during the most controversial part of her career, I never had the chance to see her perform. It wasn't until 2001 that I went to my first Madonna concert. Seeing the Drowned World Tour at Madison Square Garden was a dream come true. I knew from that very first show once would never be enough. I was lucky enough to see a second show at MSG during that tour, this time taking my new friend, Jordan. He was another huge Madonna fan who had never had the opportunity to see her perform live. We were on the floor that night, maybe thirty feet away from the stage. It was an amazing night which would commence a decade long friendship and Madonna concert experiences.
Since Drowned World, my mission has been to get as close to the stage as possible. When the Re-Invention Tour came around, I struggled to get a ticket to the show, but ended up buying a VIP package which placed me on the first tier of seats on the side of the stage. Even though I was sitting across from Susan Lucci, I was somewhat sad I wasn't on the floor in the front; but that sadness quickly vanished when Madonna's side stage riser rose up to my level and she sang "Crazy for You" to me and her adoring fans. It was a true thank you for all of us who had been with her through thick and thin.
When the Confessions Tour arrived, I was living in the UK. I bought tickets to see her twice in London and once in New York—you have to see Madonna in NY, it's her home, it's where her heart is. For the New York show, my tickets where about the same place they were the first time I was on the floor for DW, but this was right near where the cat walk ended, so it ultimately became like a front row experience, but not quite. In London, I was closer to the stage, but off to the side. I was right under where the left side stage rose up and where Madonna sang "Like A Virgin" on a moving carousal. That night I was truly blessed. Madonna hung over the side of the
stage, looked right into my eyes, and sang right to me. She pierced my soul in that moment and I knew what it felt like to look into the face of God.
My second London show found me sitting further away from the stage, but right next to Madonna's family. Guy, Rocco & Lola slipped in past me when the lights had gone out and took their seats in the sound mixer area. It was a joy to watch them watch her, and I thought this was a great way to end my Confessions Tour experience.
My next Madonna live performance was the promo show she did at Roseland Ballroom for her Hard Candy album. I waited on a line on the streets of NY to get a pass into that show. It was intimate. I was close enough to see her sweat. I was in heaven.  When Sticky and Sweet came around, I saw that show four times. The first two were decent seats, again, about 30 feet from the end of the cat walk. The second two found me right up by the stage. I was the closest I had ever been, pressed up against the side of the catwalk for one show, and sitting 3rd row for the other. It was when I was in the 3rd row that Madonna pointed directly at me, acknowledging the fan made t-shirt I was wearing which featured Her Majesty sitting upon her throne. It was heaven.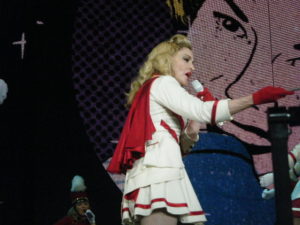 But all of my past Madonna tour experiences have been leading up to the greatest yet. The MDNA Tour has found me the luckiest boy of all. After a horrid birthday, Madonna's manager, Guy Oseary, graced me with pit tickets to the opening of the North American Leg of the tour in Philly. This you may recall as I wrote a review of the show for Metrosource, and a portion of this review was quoted in an article written for NBC news. Being inside the Golden Triangle was incredible. I was so close to my Queen, I did not think it could get any better. Well, it could. I had tickets to see Madonna's first gig at Yankee Stadium this past week and entered a fan club contest to upgrade those tickets for the Golden Triangle. I never thought lightning would strike twice, but it did, and I won the upgrade. I knew this concert was going to be a special one because it would mark my 13th Madonna show. To mark this special occasion, I brought my friend Jordan. You see, I had taken him to his first Madonna show, and even though he had been to all the subsequent tours since, we had never gone to another show together. 11 years later, Jordan and I entered the Golden Triangle and took our places at the front of the stage. I could not believe there was actually a spot for us, as every space at the stage and around the triangle was taken, but two spots on the left at the end were free and I knew that is where we were meant to be.
Seeing Madonna from the front of the stage was an experience beyond belief. It was me and my Queen, up close and personal. The night was magical, just as it had been the first time I saw Madge with Jordan, and I knew that we were both in for something miraculous. The moment came as Madonna sang "Like A Prayer." She walked over to our side of the stage, and arm stretched out, leaned forward to connect with her fans. I knew this was my moment. My eyes locked on Madonna's hand as it made its way towards me. She had a cut on the top of her hand and was bleeding like stigmata. Her hand was slightly cupped as the two fans next to me took hold of the tips of her fingers. I wasn't about to miss what I had been waiting for my entire life. Stretching my arm as far as it would go, and more so, I grabbed hold of Madonna's hand and held on for dear life. All my woes had vanished and nothing in life seemed to matter.  Madonna took me there, just like a prayer, she took me there. My moment, my dream come true. And while this was happening, Madonna was looking right into Jordan's eyes, singing directly to him, just as she had done to me all those concerts ago.  When it was over, Jordan and I embraced. We had been blessed by her Highness. We had been loyal and true and she had rewarded us.
I could still feel her touch a whole day later, and I will never forget what it was like to hold hands with the woman who has influenced my life above all others, who I have loved and been devoted to my entire life. Simply Euphoric.