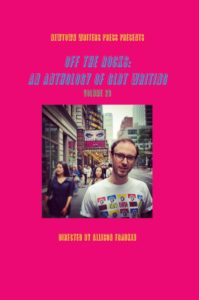 What joy it brings me to announce the publication of my one-act play, We, the Jury, in Off the Rocks: An Anthology of GLBT Writing, Vol. 20! This is very significant for me because it is my first published play. Many readers may remember that for a handful of years I wrote plays to be performed as part of The Big Read events in Massillon, OH. All four plays are included in the Portfolio section of my website, with links to watch the performances. We, the Jury was the last play I wrote for the Big Read. Inspired by Harper Lee's To Kill a Mockingbird (that year's book selection), the play focuses on the recent spate of gay teen suicides, particularly that of Tyler Clementi. The play follows 12 Jurors as they discuss how bullying effects a person, homophobia, and the monetary worth of a dead boy's life. The play proposes questions about America's legal system, society's view of homosexuality, and the true nature of humanity.
Having the play performed by Washington High School's drama department in Massillon, OH was a huge deal. The play had to be approved by all sorts of officials, but in the end everyone agreed the play must go on. I knew the play would be a challenging one for many in the audience. Its frank language, raw portrayal, and emotional message and conclusion forces the viewer to confront their own beliefs on the issue of homosexuality, and the worth of a (gay) life.
When the performance was over, the atmosphere had become heavy. I could tell the audience was in a state of something: shock, thought, panic…of which I was not sure. Everyone remained very still and quiet after their polite applause. As I was making my exit, a woman stopped me outside the theater. "I wanted to thank you," she said to me, "for writing that play." I could tell she had been touched, as her emotions were visible on her face. She continued by say, "I struggle with my faith and the gay thing, but I don't want those kids to kill themselves. You gave me a lot to think about." I, of course, was overcome with my own emotion. Maybe that heaviness was actually from introspection. I'll never know for sure, but what I do know is that my words had reached at least one person. They did what they were meant to do. There is no greater reward.
Now that We, the Jury is in published form, I hope the play can reach a wider audience and continue its mission to open hearts and change minds. I would love to continue to hear from anyone who was moved by the play, and encourage them to spread the word about the play so that together we can make a difference – maybe even save some lives.