Two summers ago while I was in my second residency at the Massillon Museum in Ohio, I held the very first Sushi-Fashion-Tuesday.
SFT consisted of a copious amount of sushi, good friends and a film of honor: The September Issue. This seminal documentary follows fashion empress Anna Wintour and her minions at Vogue as they get ready to publish their annual September issue – the biggest one to date. The film makes two things very clear. One is that Anna Wintour, without a doubt, runs the world. The other is that the real star of The September Issue is not Ms Wintour, but Vougue's Creative Director and former model, Grace Coddington.  One can read a plethora of online articles which talk about how GC stole the s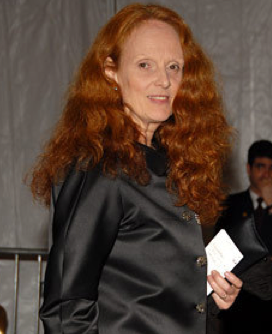 how, but she did more than that, she inspired.
Friend and artist Stephen Tornero was so taken by Grace Coddington—her creativity, her photography, her beauty, her strength that he was inspired to create prints of GC's 1962 British Vogue cover. Stephen created four separate prints which he exhibited. During my recent trip to Ohio for the Big Read, I met up with Stephen and was lucky enough to pick up one of those prints for
my personal art collection. The print I picked spoke to me right away. The colors, the design, the concept jumped off the paper.  The large 'A' that looms over a yesteryear GC, symbolic of the ever present, ever dominant Anna Wintour, or is it an upside down V for Vogue? After all, it is in the publication's typeface. Its punchy pink draws us in and we can't help but follow it down to the block of magazine text that runs across Grace. And of course there is grace herself, or as Stephen calls her, "Glowing Amber," in her rawest form. Scarred, brunt, wholly incomplete, yet layered to completion. What one learns about Grace Coddington in The September Issue is that GC's career as a model ended suddenly after an accent altered her face. GC turned behind the camera, used her eye for beauty and her brain for creativity to capture, design and construct stunning visual fashion layouts and stories.
Perhaps what "Glowing Amber" does the best is exude the inspiration Stephen was filled with from this incredible woman who turned tragedy into triumph, who creates beautiful images every day, and who trumped the woman who runs the world.