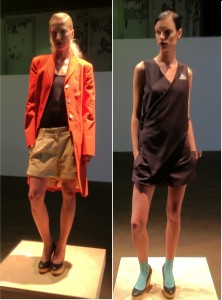 On a beautiful Sunday afternoon in September with a breeze blowing off the Hudson River at Peir57, Fashion Star Season One Winner Kara Laricks presented her Spring/Summer 2013 collection during New York Fashion Week for the very first time.
Coming off the Reality Show High with an astonishing Capsule Collection for Macy's, Saks, and H&M, New York based designer Kara Laricks had a lot to prove in her debut womenswear collection. For one, Laricks needed to show that she could morph the sellable fashions she created on a weekly basis on a TV reality show into a full-fledged line of clothing that women would continue to love and wear. For another, Laricks had been primarily an accessories designer,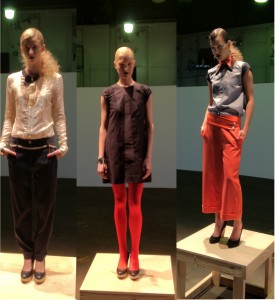 crafting those now infamous collar, stand + ties that almost got her sent home on the first episode of the hit NBC show, and the transition to clothing had to be, well, seamless.
Standing on pier appropriate wooden crates in a vast warehouse-like space with a simple stark white wall behind them, 15 models helped show the press, guests, and fashion's famous what Laricks' supporters already knew: Kara Laricks, designer, was here to stay.
Pulling her inspiration for this debut collection from 1920's Japanese Matchbook Art, dropped waists that harkened back to the flapper era, asymmetrical composition, and rough edges accentuated Larick's signature androgynous style. With the perfection of menswear tailoring and pops of bold oranges, blues and yellows, plus more classic blacks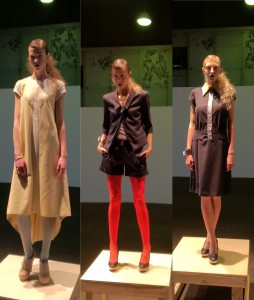 and whites, this Spring/Summer collection was full of must haves for any fashion forward lady. Privé styled the models' hair in the slicked down fashion of the 1920s male, but for those with longer locks, the remainder of hair burst out from behind their heads in an explosion of frizz and curl. This eruption, the only break in the otherwise delicate fabric and designs, is seemingly a metaphor for the demure, restrained role women took in the early part of the 20th century, while quietly bursting with life on the inside. To add to the overall composition, dark lip and eye makeup were provided by MAC, creating a hardened face.  
The collection featured a good mix of shorts, rompers, dresses, blouses, pants and coats/jackets, all in Laricks' comfortable slouchy-yet-tailored aesthetic. Charmeuse, Jacard, Gaberdine and Organza helped to create the gentle, more feminine aspects of the designs while buttons, collars/cuffs, and tux tails made up the tougher, more masculine traits. Some of the stand out pieces included an orange Cummerbund Cocktail Dress, black Tux Tail Romper, three-toned Bowtie Shirt with orange Cummerbund Pant, and a white Collared Gown. The latter piece would make the prefect delicate wedding dress. Even its position in the presentation was perfection. Not only was it reminiscent of the days when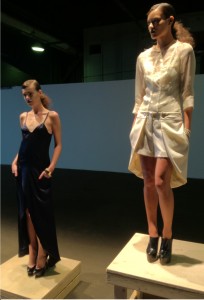 designers ended their shows with a wedding gown, but the way the fabric moved as a breeze blew in off the Hudson while the bright afternoon sun illuminated the ivory Organza made this final look simply angelic.
From start to finish, the collection was a perfect balance of hard and soft, feminine and masculine. Laricks' debut effort creates a fashion story that is clear from beginning to end. The pieces make sense, work well together, and reflect a time in our world when women were beginning to break free of suffocating rules, let alone fashion, and slip into a lifestyle that was not only more comfortable, but befitting of their spirit.
The big question after an initial presentation is always: Will we see the clothes in stores? At present, there is no definitive answer as to whether or not Laricks' debut line will be stocked in fine department stores around the world. However, having both the CEO and head buyer of Saks Fifth Ave on hand for your show is a good indication they are interested in a long term investment in the
Laricks brand; one that surpasses the joint Fashion Star deal they share with Macy's and H&M.
As the presentation drew to a close, Kara Laricks escorted each of her models off their displays as if she was sending them, and her clothes, out into the fierce world of fashion, ready to be devoured. And as applause broke out for Laricks as she made her exit, the sound could only be compared to the rumblings of stomachs hungry for more.