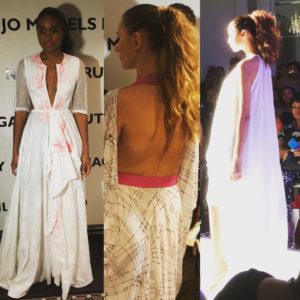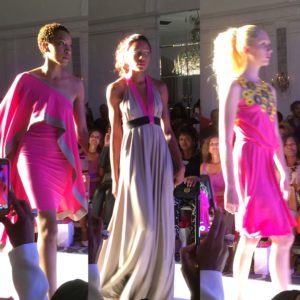 Korto Momolu returned to New York Fashion Week and brought the fun with her. Held in the Fitzgerald Ballroom at the Affinia Hotel Manhattan, Korto's Spring/Summer 2016 runway show exuded happiness and joy. "It's fun," Korto told me as we posed for a seflie. She had given me a warm welcome moments earlier, greeting me with a cheerful, "Hello, Brian," before calling me over to chat. What shines through most about Korto Momolu is her genuineness. There is nothing fake about her. She is a real woman designing for real women.
It had been a year since I last saw the Project Runway Fan Favorite, and in that year Korto faced some dark times. Several of her family members had been diagnosed with cancer one right after another. It is no surprise that when asked about her latest collection she responded to a reporter that it was very "emotional" for her. She wanted to bring "fun" and "frills" to the runway, and that is exactly what she did.
Seemingly, Korto's SS16 collection is the light at the end of a very dark tunnel. Her color choices for the collection: black and white, pink and yellow – Korto's happy color – and tan highlight the journey she has traveled on with her family. But what it also denotes is their strength, determination, and fighting spirit. Korto channels this in the way she manipulates her fabric. The juxtaposition of structure and fluidity not only spoke to Korto's skills as a designer, but as a statement about life. Even in the most rigid of times, life flows on. And of course, life flowed down the runway for Korto Momolu.
With each look came a breeze of freshness, of joy, of excitement. Spring is all about life, and this collection was full of it. The narrative thread was clear throughout. Pops of pink wove this smart, sexy, sophisticated collection together, as did bright yellow applique embellishments reminiscent of sunflowers yet speaking to Korto's Liberian heritage in their design and construction. Gowns and dresses billowed down the runway while pants, skirts, and blouses had new life breathed into them. Though silks dominated, sequined mesh stood its ground giving the SS16 collection some surprise moments. While patterns where bold, the backs of some of the looks were even bolder. After all, a Momolu girl makes a statement both coming and going. And based on the strength of this collection, Korto Momolu isn't going anywhere any time soon.
As in previous seasons, Korto's models carried O Faolán handbags by emerging designer Bryant Phelan who, his mother and aunt proudly informed me pre-runway, debuted his SS16 collection in a show of his very own the day before. Phelan is a handbag designer to watch. Clean lines, construction, and color are what make his bags big, bright and bold – not unlike the designer himself.
Overall, the show was like a party where friends old and new came together to celebrate life. Joining in on the fun were Project Runway and All-Star Alum Peach Carr, and Dance Mom Holly with daughter Nia. The three couldn't have been sweeter. We chatted post-runway and even snapped a few pics together. Shea Moisture and Wella Professionals where on hand to ensure that each model looked their best and that each guest was treated to a little SWAG. DJ Universe kept the beats fresh while Fashion Gallery NYFW kept the event on point.
When it was all said and done, Korto Momolu accomplished what she set out to do. She brought fun to the runway. After saying good-bye and offering my heartfelt congratulations, I left Korto to a crowd of photographers, their lenses capturing her glow, their lights reflecting off of the shiny pink letters on her black tank top that spelled out P.H.U.C.K. Cancer.