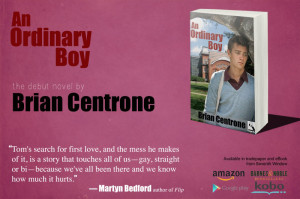 Are you a fan of An Ordinary Boy? Did you love reading about Tom Grove and his friends and family? If so, then take a moment to share your appreciation for my debut novel with potential readers!
The very important I'm Here. I'm Queer. What the Hell do I read? website has featured my novel. One of the main goals of this site is to provide LGBT readers with a variety of LGBT themes books to read.
If you grew up gay, or even if you didn't, you know exactly how important finding a book to connect with is. In the spirit of paying it forward, help a new (or old) reader out and tell them exactly why they should read my novel.
Thanks for all your support and kind words.
Bxxx