The instant I was introduced to designer @KaraLaricks on NBC's fashion forward reality show, Fashion Star, I was hooked, collar,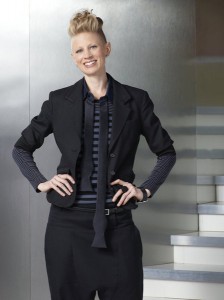 stand + tie. Laricks, a former teacher, left our shared profession to follow her dreams. An admirable feat. The concept behind her Collar, Stand + Tie label is deconstruction. Those of you who have studied theory will surely conjure famed philosopher Jacques Derrida to mind, but I assure you, Laricks' theory of "deconstruction" is a lot easier to grasp, and if I may add, a hell of a lot more fun.
On Fashion Star, Laricks showcases her womenswear designs, all ingenious, all must haves, but alas, not for the boys. I'll admit I was jealous. I wanted a piece from this designer's collection. A smart trip to her website proved I could have just that. Though Kara Laricks is focused on womenswear, she hasn't forsaken the boys (and they haven't forsaken her – she as tweeted how much she LOVES the support they are offering).
Anyone who knows me knows that I love two things: Scarves and accessories. My passion for both is legendary, if I say so myself. So when I spied Laricks' hood + scarf   for guys, I flipped. The concept is playful,
delightful, and insightful. Deconstructed hoodie turned into a scarf. Yes please. I had to have it. I fired off an impassioned message asking if there were any available while professing my love of and for Kara Laricks and her designs.  This did not go unanswered. Her response was filled with equal passion, gratitude and of course, the option of either a grey or blue hood + scarf. Loving a good Pop of Color, I choose blue.  A few exchanges later, all filled with good spirits and positivity, and this fun addition to my collection was in hand – just in time for the last cold day of the season!
The response I received from the hood + scarf was nothing short of expected. Amazement, jealousy, curiosity were all present and all appropriate. High Fashion is, of course, a piece of art meant to be desired.  The best part of all is Kara Laricks. She is sweet, genuine, talented and extremely appreciative.  I asked her about working with my favorite menswear designer, John Varvatos, (he's a mentor/judge on Fashion Star alongside Jessica Simpson and Nicole Ritchie). You may know him better as the man whose shoes I constantly tweet about. In a kindly note, Kara Laricks explained how to wear her design (she wished she could be there to show me; I wished she could be there too, but just for the experience of being in her presence) and jotted down how great a guy JV is in person. This tickled me.
A Fashion Star has yet to be coronated, but if I was a betting man, I would lay my bullions on Kara Laricks. Whether she wins the title or not, and surely she should as she is the most original, most unique, most talented designer amongst the tried and true contestants, she has won over the hearts and closets of America. This is one designer whose label will continue to inspire, impress and ignite. I for one can't wait to own more of Laricks' creations.
*As of this post, Kara Laricks won Fashion Star.