Happy New Year, Readers!
As you know, I am a writer and an artist, but I am also a homemaker. I make homes…pretty. I love decorating and doing projects that make a house a home. One of my favorite ways to decorate, and one that is a quick, inexpensive, and easy way to create impact, is to design a feature wall in your home. A feature wall is a wall in your home that has been designed to stand out. This is usually done through wall hangings of various sorts. The idea is that the hangings create an impact because they are either large in scale, or a large collection of smaller pieces. Think Salon Style gallery hangings.
Today I am going to take you through a feature wall option anyone can do. Remember those 2013 calendars you just took down? Well, don't toss them out! You can take those calendars, which are filled with images you loved for 12 months, and turn them into art for a whole new year, or more.
Step 1: The Art
For this project to work, you will need a standard 12×12 wall calendar. Start by removing the staples out of the center of the calendar. Then, one sheet at a time, fold the page along the crease backwards and forwards. You want to do this to weaken the paper so that it is easier to separate. If it is worn enough, you should be able to simply pull it apart, but if it is still a bit tough, you will want to use a scissor, or cutting tool, to make the cut. Remember to be gentle; you don't want to rip the calendar page, ie, the art!
Step 2: The Frames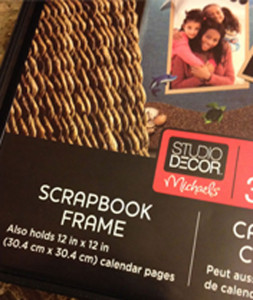 Next you will need frames. Craft stores like Michael's and Jo-Ann sell scrapbook frames which are exactly 12×12. Please note that while these may look the same as the increasingly popular Record Album Frames, they are not. Record Album Frames are larger by .5 inches on all sides. Picking these up will leave you with an unflattering gap around your art image. You want the artwork of the calendar page to fit the entire frame.
From what I have seen, you have two options for these 12×12 scrapbooking frames. You can either get metal, or natural wood. The natural wood frames, which can be purchased from joann.com, can be stained or painted any color. Ideally, the metal frames, which you can get in store at Michael's, typically come in black, and occasionally in red, can also be painted any color.
Though Painting frames is more easily done using a can of spray paint, you still have to know what you are doing. Here is a quick video from Lowe's Home Improvements which provides great tips on how using spray paint.
In terms of price points, these 12×12 frames can run anywhere from 9.99 to 12.99. Often though, these frames go on sale from 40%-60% off. And of course, be on the lookout for coupons from your favorite craft store. Here's a great New Year Sales Joann is running until the 4th.
Step 3: The Fitting
Once you have your frames sorted, fit your artwork in them. These types of frames usually have easy open backs; most likely metal clips that slide or snap up and down, back and forth, or in and out. Your metal frames will have a hook already in place, but your wooden frames may need a hook added, which you will need to hammer in yourself. Be mindful of measurements when you are doing this. You want to make sure that each hook is in the exact same spot on each frame or this can cause discrepancies in the overall hanging. Use a good measuring tape or ruler and a red or black felt-tip marker to mark the spot of your hook and nails.
Step 4: The Hanging
The hardest part of this project will probably be hanging the frames. There are a number of options available to you. Here are two videos that are sure to help. The first video by Maggie Fromm shows how to properly measure and hang your collection of frames, while the second video by Room and Board will give you some ideas on how you might like to pattern out your frames.
After your frames are hung, you can sit back and enjoy your new feature wall. And the best part? This new feature is interchangeable! Once you have the nails in place, all you need to do is take down the frames and switch out the images. Your feature wall art can be its own exhibition space, always changing, always fresh, always exciting.